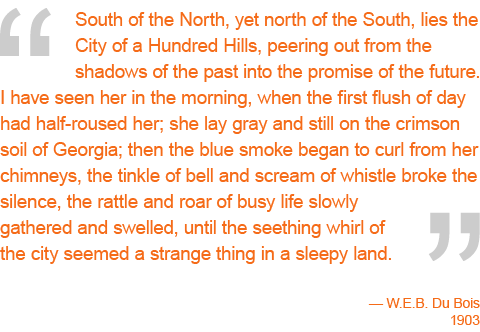 More than 100 years later, the "tinkle of bell and scream of whistle" has been replaced by the whoosh of rapid commuter transport and the beeps and trills of telecommunications, but the "rattle and roar of busy life" continues to be heard in Atlanta—the country's fastest growing metropolitan area—and home to an innovative and vibrant arts community.
The city will provide us a laboratory to investigate the historic role of the arts in an urban environment as well as a backdrop for contemporary expression. The landscapes of the New South will provide diverse opportunities to explore familiar and unexpected themes... new territories with new strategies, new tools, and new forms of philanthropy.
Before the conference even begins you'll have the opportunity to participate in pre-conferences exploring Rural Arts Funding, Arts and Social Justice, and Understanding the Changing Arts Environment. Sunday afternoon pre-conference tours will visit Sweet Auburn Historic District and the Atlanta BeltLine.
Keynote presentations by the Freedom Singers and novelist Gary Pomerantz will provide historic perspective through the eyes of artists of color working at home and afield, while actor and director Kenny Leon will offer the first-hand story of an artist of color in contemporary society. Architect and urban designer Samina Quraeshi and artist Edgar Arceneaux speak to the role of art in place-making and urban redevelopment, and finally, curator and theorist Bruce Ferguson will reflect on the conference proceedings and offer some visions for the future.
So, set your course for Atlanta, where tradition and change live side by side.
Lisa Cremin
2008 Conference Chair
Director, Metropolitan Atlanta Arts Fund