IDEA LAB Salon with Marshall Davis Jones
Monday, October 7, 9:50am – 10:50am
Regency C-2, Second Floor Mezzanine
Artists and presenters from the plenary IDEA LABS will host salon discussions each day following their presentations.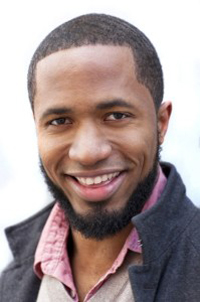 As a professional spoken word artist and dramatic performer, Marshall Davis Jones has been featured in two TEDx events, and through the Musical Instrument Museum, the Omega Institute, and BBC World Service.
He has been on national slam teams, winning the first ever Group Piece Finals (2008; Urbana, IL) and placing second in the nation (2011, Nuyorican Poets Cafe). Not leaving his musicianship untended, he has also produced/written music for himself and others including HBO Def Jam Poets, Shanelle Gabriel, and Oveous Maximus.
His clients have included the Leon H. Sullivan Foundation, the i.am.angel Foundation, the Jordin Sparks Experience, and numerous colleges and universities, including Pace, NYU, and Utah State. He has shared the podium with Marc Lamont Hill, Ambassador Andrew Young, Henry Louis Gates, Jr., and Simon Sinek.
Marshall regularly conducts workshops with youth and adults.