IDEA LAB Salon with Germaine Ingram
Tuesday, October 8, 9:50am – 10:50am
Commonwealth A, Second Floor
Artists and presenters from the plenary IDEA LABS will host salon discussions each day following their presentations.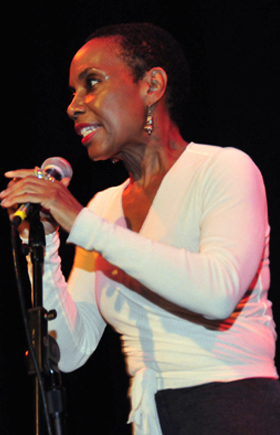 Germaine Ingram came under the spell of jazz tap dance in the early 1980s when she began intensive study with internationally acclaimed tap artist and teacher LaVaughn Robinson. She has pursued tap's call through performance, choreography, teaching, oral history, video-making and stage production.
Since 1985 she has performed with her mentor, Robinson, and as a soloist. She has performed and taught workshops throughout the United States and Europe and in the Caribbean. She has shared bills with tap greats spanning at least three generations, including Honi Coles, Jimmy Slyde, Buster Brown, the Nicholas Brothers, Gregory Hines, Dianne Walker, Brenda Bufalino, Savion Glover and Bakari Wilder. She appeared with Robinson in the Emmy Award-winning public television production "Gregory Hines' Tap Dance in America."
Her choreographic credits include commissions for Manhattan Tap and Washington-based Tappers With Attitude, and works for musical theater. Her commission for Tappers With Attitude was performed at the Kennedy Center for the Performing Arts in July 2000. In 1998, she contributed choreography to the Joyce Theater presentation, "Excursion Fare," an evening-length collaboration between Heather Cornell of Manhattan Tap and world music ensemble Keith Terry and Crosspulse. Over the past several years she has collaborated and performed with renowned jazz composers and instrumentalists Odean Pope (saxophone), Dave Burrell (piano) and Tyrone Brown (bass), working with these musicians and others in Folklore Project artist residency performances, and elsewhere, including at Dance Boom, and the Merriam Theater.