Keynote Speakers
Peter Sagal

A native of Berkeley Heights, N.J., Peter Sagal attended Harvard University and subsequently squandered that education while working as a literary manager for a regional theater, a movie publicist, a stage director, an actor, an extra in a Michael Jackson video, a travel writer, an essayist, a ghost writer for a former adult film impresario, and a staff writer for a motorcycle magazine.

He is the author of numerous plays that have been performed in large and small theaters around the country and abroad, including Long Wharf Theater, Actors Theater of Louisville, Seattle Repertory, and Florida Stage. He has also written a number of screenplays, including Savage, a cheesy vehicle for obscure French kickboxer Olivier Gruner, and Cuba Mine, an original screenplay that became, without his knowledge, the basis for Dirty Dancing: Havana Nights.

Among Sagal's honors are a DramaLogue award for directing, grants from the Jerome and McKnight Foundations and a residency grant at the Camargo Foundation in Cassis, France. He has been commissioned to write new plays by the Seattle Repertory Theater and the Wind Dancer Theater and has been invited to work on his plays at Sundance, the Eugene O'Neill Theater Center, and the New Harmony Project.

In 1997, Sagal joined the panel of a new news quiz show on National Public Radio, that made its debut on-air in January of 1998. In May of that year, he became the host of the show. Since then, Wait Wait... Don't Tell Me has become one of the most popular shows on public radio, heard by two and half million listeners a week, on 450 public radio stations nationwide, and via a popular podcast. In October 2007, Harper Collins published Peter's first book, The Book of Vice: Naughty Things and How to Do Them, a series of essays about bad behavior. It will be released in paperback in October 2008.  Sagal also wrote the introduction and contributed much of the material to the Wait Wait... Don't Tell Me! quiz book.

Sagal lives near Chicago with his wife, Beth Albrecht Sagal, and their three daughters.

Learn more about Peter Sagal
Marc Kelly Smith

Marc Smith is the creator and founder of the International Poetry Slam movement. As stated in the PBS television series, The United States of Poetry, a "strand of new poetry began at Chicago's Green Mill Tavern in 1987 when Marc Smith found a home for the Poetry Slam." Since then, performance poetry has spread throughout the world, exported to over 500 cities large and small.

Chalking up more than 2,000 engagements in nightclubs, concert halls, libraries, universities—and on top of the occasional hot dog stand—Marc continues to entertain and inspire audiences as diverse and eager as any to be found in the realm of fine arts. He has performed at the Kennedy Center, the Smithsonian Institute, Galway's Cruit Festival, Denmark's Roskilde Festival, Ausburg's ABC Brecht Festival, and the Queensland Poetry Fest in Australia. He has hosted over 1000 standing room only shows at the Green Mill's original slam and has been featured on CNN, 60 Minutes, and National Public Radio. He narrated the Sourcebooks releases Spoken Word Revolution and Spoken Word Revolution Redux. Marc's volume of poetry Crowdpleaser (Collage Press) and his CDs It's About Time, Quarters in the Juke Box, and Love & Politics are available through his website www.slampapi.com.

Taking steps from live music, spoken word, drama, stand-up, improvisation, and story-telling, the Speak'Easy Ensemble taps, raps, recites, and tangos across the boundaries of all the performing arts to create a poetic interactive entertainment experience that is funny, risky, bizarre, and altogether new.

The group comprises Joel Chmara, Molly Meacham, Sarah Morgan, Tim Stafford, Dan Sullivan, Robbie Q. Telfer, Rik Vasquez, Laura Yes Yes, and Marc Kelly Smith. All have been published in a variety of literary magazines and anthologies. All have toured throughout North America and Europe. Some have made appearances on HBO's Def Poetry Jam and other local and national TV and radio programs. This is a seasoned and accomplished combination of talents.

Learn more about Marc Kelly Smith
Rocco Landesman

Rocco Landesman was born and raised in St. Louis, Missouri. He pursued his undergraduate education at Colby College and the University of Wisconsin, Madison and earned a doctorate in Dramatic Literature at the Yale School of Drama. At the completion of his course work, he stayed at the school for four years, working as an assistant professor.

Mr. Landesman's ensuing career has been a hybrid of commercial and artistic enterprises. In 1977, he left Yale to start a private investment fund which he ran until his appointment in 1987 as president of Jujamcyn, a company that owns and operates five Broadway theaters: the St. James, Al Hirschfeld, August Wilson, Eugene O'Neill, and Walter Kerr theaters.

Before and after joining Jujamcyn, Mr. Landesman produced Broadway shows, the most notable of which are Big River (1985 Tony, Best Musical), Angels in America, a play in two parts which received the Tony for Best Play in 1993 and in 1994, and The Producers (2001 Tony, Best Musical). In 2005, he purchased Jujamcyn and operated it until President Obama announced his intention to nominate him to the NEA chairmanship.

Mr. Landesman has been active on numerous boards including the Municipal Arts Society, an advocacy organization concerned with New York City's public spaces and preservation; the Times Square Alliance which has radically changed the heart of the city by improving its safety, sanitation, and aesthetic; The Actor's Fund; and the Educational Foundation of America. In addition and over the years, he returned to the Yale School of Drama and Yale Rep to teach.

Learn more about Rocco Landesman
Joi Ito

Joi Ito is the CEO of Creative Commons. He has created numerous Internet companies including PSINet Japan, Digital Garage and Infoseek Japan and was an early stage investor in Twitter, Six Apart, Wikia, Technorati, Flickr, SocialText, Dopplr, Last.fm, Rupture, and Kongregate, among others. He is on the board of CCC and Tucows, as well as a number of nonprofit organizations, including The Mozilla Foundation, WITNESS, and Global Voices. Additionally, Ito is a Senior Visiting Researcher of Keio Research Institute at the Shonan Fujisawa Campus in Japan and the Chairman of Six Apart Japan. He has served and continues to serve on various Japanese central and local government committees and boards, advising the government on IT, privacy, and computer security issues.

Ito was listed by Time Magazine as a member of the "Cyber-Elite" in 1997 and, in 2000, was commended by the Japanese Ministry of Posts and Telecommunications. He was named one of the "Global Leaders for Tomorrow" by the World Economic Forum in 2001, chosen by Newsweek as a member of the "Leaders of The Pack" in 2005, and listed by Vanity Fair as a member of "The Next Establishment" in 2007.

Ito is researching "The Sharing Economy" as a Doctor of Business Administration candidate at the Graduate School of International Corporate Strategy at Hitotsubashi University in Japan. He maintains a weblog (http://joi.ito.com) where he regularly shares his thoughts with the online community.

Learn more about Joi Ito
Aaron Dworkin

A 2005 MacArthur Fellow and Member of the Obama National Arts Policy Committee, Aaron Dworkin is the Founder and President of the Sphinx Organization, a leading national arts organization that focuses on youth development and diversity in classical music.

A lifelong musician, Mr. Dworkin is an accomplished acoustic and electric violinist as well as a spoken-word and visual artist. He has strong interests in politics, world history, and issues of economic and social injustice. In addition to various genres of music, he enjoys travel and culinary arts.

Mr. Dworkin received his Bachelor of Music and Master of Music in Violin Performance from the University of Michigan School of Music. He attended the Peabody Institute, the Philadelphia New School, and the Interlochen Arts Academy.
Catalyst Quartet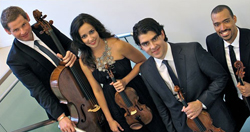 The Catalyst Quartet comprises top Laureates and alumni of the internationally acclaimed Sphinx Competition for young Black and Latino string players. The mission of the ensemble is to advance diversity in classical music and inspire new and young audiences with dynamic performances of cutting-edge repertoire by a wide range of composers. Founded by the Sphinx Organization, members of the Catalyst Quartet combine a serious commitment to diversity, excellence and education with a passion for accessible modern works.
Along with recordings later this year on Naxos and White Pine labels, The Catalyst Quartet will make their debut at Carnegie Hall on October 5th, 2010, and at the National Conference for Grantmakers in the Arts, in addition to appearing as the featured Guest Artists for the 14th annual Sphinx Competition. Members of the ensemble have performed as part of the annual national Sphinx Chamber Orchestra Tour, which has met with critical acclaim since its inception in 2008.
Buffy Sainte-Marie

Buffy Sainte-Marie is an artist, performer, philanthropist, and social activist. Born on a Cree reservation in Qu'Appelle Valley, Saskatchewan, she was adopted and raised in Maine and Massachusetts. She received a Ph.D. in Fine Art from the University of Massachusetts. She also holds degrees in both Oriental Philosophy and teaching, influences which form the backbone of her music, visual art and social activism.

As a college student in the early 1960s, Buffy Sainte-Marie became known as a writer of protest songs and love songs. Many of these have become huge hits and classics of the era, performed by hundreds of other artists including Barbra Streisand, Elvis Presley, Chet Atkins, Janis Joplin, Roberta Flack, Neil Diamond, Tracy Chapman, The Boston Pops Orchestra, Cam'ron, Neko Case, and Courtney Love.

In 1969 she started a philanthropic non-profit fund Nihewan Foundation for American Indian Education devoted to improving Native American students participation in learning. She founded the Cradleboard Teaching Project in October 1996 using funds from her Nihewan Foundation and with a two year grant from the W.K. Kellogg Foundation of Battle Creek, Michigan. With projects across Mohawk, Cree, Ojibwe, Menominee, Coeur D'Alene, Navajo, Quinault, Hawaiian, and Apache communities in eleven states, partnered with a non-native class of the same grade level for Elementary, Middle, and High School grades in the disciplines of Geography, History, Social Studies, Music and Science and produced a multimedia curriculum CD, Science: Through Native American Eyes.

Learn more about Buffy Sainte-Marie