Arts Integration as Pathway to Unity in the Community
The (Ongoing) Journey of Pillsbury House + Theatre
Nancy Fushan, June 2014, 52 pages, Pillsbury House + Theatre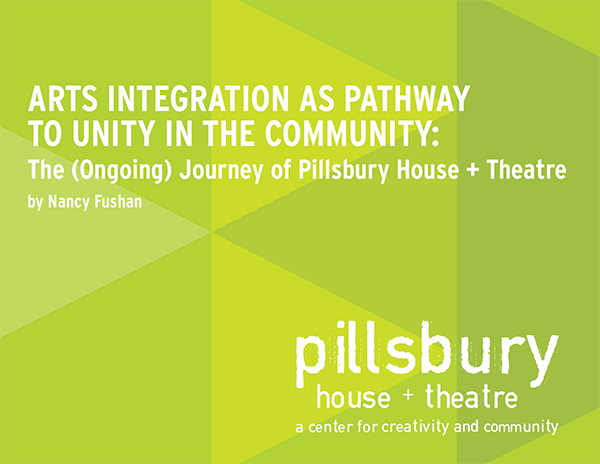 The McKnight Foundation's vision statement for its arts program is "Minnesota thrives when its artists thrive." In the case of one of McKnight's longtime grantees, Pillsbury House + Theatre, artists on the ground in their community are carving paths for everyone to thrive.
In Arts Integration as Pathway to Unity in the Community, Nancy Fushan investigates transformational change brought about by the artists of Pillsbury House + Theatre, a professional theater embedded in a highly complex social service community center. Fushan's attention to the multifaceted institution that houses Pillsbury House + Theatre is critical to the reader's understanding of the complex challenge that is the report's central theme: arts integration as pathway to unity in the community.
Founded in 1905, Pillsbury United Communities (PUC) got its start in the settlement house movement. In the 1990s, PUCs visionary executive director Anthony Wagner created the platform for the theater's founding. At that time, the arts were seen as elitist in social services, and Fushan underscores that Wagner was confounded by society's belief that "the arts are not fundamental to the lives of poor people." So, defying the popular sentiment of the time, co-artistic directors Faye Price and Noël Raymond built a professional theater whose work resonated with people in the community while also receiving critical theatrical acclaim.
In 2008, just as the Great Recession was beginning, Wagner appointed Price and Raymond as codirectors of the entire Pillsbury operation, assigning two theater artists to integrate the arts into all aspects of the institution. Fushan uncovers the challenges they faced and the fear that longtime staff experienced as they were expected to reshape outdated assumptions and behavior, which had in some cases led to stale operations and services.
This shift in leadership and direction drove several operational evolutions. Some staff left and were replaced by new staff, including many working artists. Consultant Bill Cleveland led institute-style visioning sessions. Artists from many different disciplines brought their sensibilities and experience and resourcefulness into after-school programs, the medical clinic, and other social service programs. Neighbors were introduced to each other by artists assigned to particular blocks. Multigenerational gatherings generally included dance. And in PUC's lobby, the receptionist began to act as docent for current exhibitions.
Today, longtime social service staff are no longer skeptical about theater artists running the place. Pillsbury House + Theatre has gone a long way toward adopting an organizational culture in which change and adaptation (at all levels) are not just "lip service"; they are truly valued and embraced. In many cases, staff members have been energized. Intricate systems are in place to track the impact of the work. Theater attendance has increased by 86 percent. This bears repeating: theater attendance has increased by 86 percent. Chanda Smith Baker, the new president of the PUC system, which includes four additional community centers, supports the arts-centered model and consistently relies on Price and Raymond for guidance.
Perhaps one of the most important chapters of Fushan's report focuses on creative placemaking and the upswing in attention paid to it across the country. For Pillsbury House, creative placemaking is about people. Fushan quotes Michael Hickey, a national fellow at the Civic Consulting Alliance: "Creating placemaking is a lifestyle, not a program; it depends on gradual growth, not rapid expansion; it's about advocacy, not promotion." Pillsbury House artist partner Natasha Pestich adds, "Creative placemaking is much more about people coming together and infusing their values and intentions for a place."
For the full story on this incredible work by artists unifying a community in Minneapolis, I recommend that you read Fushan's report, available at http://pillsburyhouseandtheatre.org/wp-content/uploads/2014/05/arts-integration-report-2014-interactive.pdf.
Vickie Benson is arts program director at the McKnight Foundation.