Experience as Research: Suzanne Sato
This is part of the special section, Experience as Research.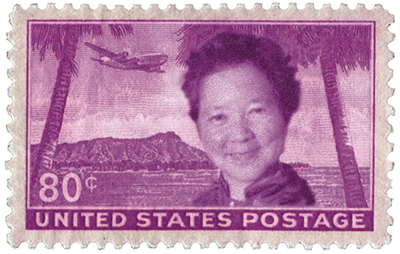 My work in the arts started with my high school interest in theater. And there was a kind of anti-influence in my early life that pushed me toward working in this field. My parents worked really hard to get me an education, but one by-product of that effort was that they thought work was to make a living, not for enjoyment. They did good work and took pride in it, and they got far without college educations. But they never loved their work and always told me I shouldn't expect to either.
But I didn't buy it. I didn't believe I could have such a great education and then not enjoy my work. As a result, a big motivator for me has been that I do work I love.
I've always been transported by the creative act — in arts, in science. Making something that didn't exist before, that comes out of your imagination — it is ineffable to me. In high school and college, theater was as close as I could come to making art myself, but I understood early that I wasn't an artist (whatever that meant).
So I decided that the best thing for me was to make it possible for others to make the art that I wasn't going to. And the events that have stuck in my mind through the years have centered on the creative process — auditions, readings, rehearsals, seeing the work take shape. One of the special opportunities of philanthropy is being able to see and understand more of the underpinnings and motivations in the creative act than most people get to experience.
Alberta Arthurs had been my boss at Radcliffe in admissions, before I pursued arts administration. When she first became director of the Arts and Humanities program at the Rockefeller Foundation she would call to ask questions about art production, having had less direct experience herself in the arts.
I was lucky enough to work for Alberta again when she hired me at Rockefeller, where I worked for seven years. I was very inspired by her ability to listen to disparate voices and then find a path of action through those voices. She knows how to draw the threads of different impulses together to make a whole and help people assert their creativity without silencing other voices. The caliber of her thinking, of her seriousness and scholarship is unique. And her global thinking encouraged me to look at policy and the more structural sides of the field. Under her leadership we were able to create several durable programs that continue today.
During my tenure at Rockefeller, the leadership wanted our "institutional arrows" to all point in the same direction, and we worked hard to collaborate with other departments. One of the most memorable moments came in a staff meeting when one of the senior scientists said, "When we have solved world hunger and problems of overpopulation, what will it have been for if we don't have arts and humanities?" I could have kissed him!
There were many artists whose work has had a big impact on me. Bill T. Jones, Elizabeth Streb, Merce Cunningham, Meredith Monk, Bill Rauch, and many more, especially in theater. There were also other funders and cultural leaders who shaped my thinking and my approach, many people I grew up with in the field — Cynthia Mayeda, Holly Sidford, Dudley Cocke, Kinshasha Conwill, Ben Cameron, Marian Godfrey, John Killacky, Steve Lavine, Tim McClimon, Charles Dillingham. And then there were funding mentors like Ruth Mayleas and Tomás Ybarra-Frausto. Ruth's insatiable passion for and unremitting commitment to theater was really inspiring. And Tomás was a scholar who influenced the articulation of the emerging cultural paradigm about diversity and creativity.
What Reynold Levy did at AT&T was seminal. He created a corporate foundation, and included the arts in it. AT&T: Onstage was especially close to my heart. In one of AT&T's initiatives, we went back to the idea of Bell Labs — loving the creative act, taking a page from Experiments in Art and Technology (EAT) and the work that AT&T had done to support artists like Robert Rauschenberg. AT&T pioneered the idea of a true foundation with a corpus, rather than a corporate giving pass-through.
I do worry about what I think may be a kind of amnesia in the philanthropy field. Young philanthropy professionals need not necessarily reinvent the wheel. Revisiting the past and learning about what worked before isn't a cop-out. Maybe it's my age, but I think some things never change. Ultimately, we need to let artists do their work. My impression is that arts philanthropy is getting more and more complex, more hoops and demands. It's getting harder to get the money, and harder just to do the work. This is very disheartening.
It's great that foundations want to learn and codify processes and help the field. But they are asking the same people who are making the work to do even more work in applying and reporting, and some of that isn't very creative. I hope young funders will push back on the bureaucratization. Think of the huge numbers of people who are spending quantities of time in order to be turned down. In my view, the best funding programs are the ones that get people into dialogue but don't disrupt their lives to do it.
By virtue of being a foundation officer, you do see more work than the average artist or organizational leader. It's important that funders be networkers, connectors, that they introduce people to others who can help them. Remember that you are the luckiest person in the world to have the opportunity to mobilize resources in a thoughtful way on behalf of creative expression.
Suzanne Sato is director of foundation relations at the Punaho School in Honolulu.