Looking Forward: An economic outlook after COVID-19
Looking Forward: An economic outlook after COVID-19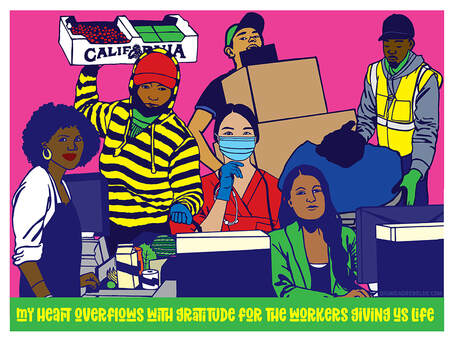 The last month has undoubtedly been nerve-wracking for all of us, as we worry about the health of those we care about, and the broader economic ramifications of COVID-19. Foundations that support the arts have watched grantees close their doors indefinitely, cut programs, and possibly lay off staff. Meanwhile, the importance of the arts has only been underscored in this moment of social distancing – evidenced by the breadth of content consumed online: from virtual museum tours, to opera in HD, and live-streamed conversations with creative visionaries.
The GIA Webinar on Emergency Preparedness and Response highlighted the commitment of many foundations in this community to double down on their impact in this moment of widespread need: converting programmatic grants to general operating support, streamlining panel processes and increasing grant-making budgets. Of course, the economic impacts are also acutely felt by funders: as investors, they have experienced a market crash of unprecedented speed.
Economists at Morgan Stanley believe we are at the beginning of a global recession – not a financial crisis or a depression – expected to be deep and last two to three quarters. It is important to remember that recessions are a part of the normal economic cycle, and contextualize the events which led to this recent crash – a global pandemic occurring simultaneously with an oil price war between Russia and Saudi Arabia – as black swans which exacerbated the speed of the decline. These events also came at the tail end of an 11-year economic expansion, with record high consumer confidence: a warning sign of a coming adjustment in markets.
As COVID-19 brought the economy to a halt, we have seen an extraordinarily swift and sizeable level of monetary and fiscal stimulus in response: the Federal Reserve has committed to keeping interest rates low and buying unlimited quantities of investment grade assets to keep credit markets healthy. The government also unanimously passed a $2 trillion economic rescue plan – the biggest in U.S. history – targeted at supporting individuals and small businesses. This stimulus is estimated to result in a US fiscal deficit of 13% - a level last seen during World War II.
While direct support to non-profits in the arts in the CARES Act is low – a mere $300 million, including a $75 million grant to the National Endowment of the Arts – there is some respite. Non-profit cultural organizations are beginning to take advantage of $360 billion in small business loans, designed to be forgivable if staff is kept intact. For the many organizations that have had to endure lay-offs, former employees, including freelancers and gig workers, are protected by massively expanded unemployment insurance programs, which aim to cover nearly 100% of lost wages.
Unlike in the 2008 financial crisis, the American consumer going into this recession was in a position of strength, with savings rates at historic highs and low unemployment. As consumer spending makes up 70% of our economy, there is hope that the recovery may be just as swift as the downfall given consumers ability to weather what we expect to be a brief storm.
What does this mean for foundations? While it is hard to time a market bottom, we think the worst of the impacts have already been priced into markets. Now is not the time to sell endowment assets – doing so would only lock in losses ahead of a potential recovery. Depending on how the virus continues to behave, with the possibility of a second wave of infections, the recovery may look more like a "W" rather than a "V" – getting worse again before it gets better, and surely bumpy along the way. That said, for long-term investors, which almost all foundations are, this could be considered an attractive entry point to markets given the depth of dislocation in prices.
But what about the larger impacts on the cultural sector as a whole? Surely, there will be some changes on the other side of this. As never before, smaller arts organizations will have to consider ways to manage overhead – collaboration and sharing of resources will be essential. A more collaborative cultural landscape is likely to also be a more effective one, and this sentiment is also true on the philanthropic side. A 2019 study by the Arts Funders Forum, a platform designed to increase private giving to the arts, found that 75% of art funders highlighted "collaboration and partnerships" and "new funding vehicles" as likely to have the most significant impact on the future of the field.
We have already seen this in action in the rapid response phase of this emergency: over 15 foundations have come together to create the $75 million NYC COVID-19 Response & Impact Fund to support New York City-based social service providers, as well as arts and cultural organizations. A new Artist Relief fund, which will provide emergency $5,000 grants directly to artists across disciplines, has also just been announced. A joint effort of 7 national organizations – including Academy of American Poets, Artadia, Creative Capital, Foundation for Contemporary Arts, MAP Fund, National YoungArts Foundation, and United States Artists – the fund launched with an initial $10 million, including a $5 million seed grant from the Andrew Mellon Foundation. It is ready to disburse grants to 100 artists each week, from now until September.
Only time will tell how this plays out for the cultural sector long term. Will our theaters and performance spaces once again be filled? Likely yes, and perhaps with new, younger audiences – those first discovering organizations digitally from the comfort of their home. In the meantime, we must look to positive news: estimates suggest that 99% of people infected with COVID-19 recover, and there are signs that hospitalizations in New York City may be reaching their peak as of April 8th.
China's peak new cases occurred the first week of February: almost 99% of businesses resumed some form of activity within 6 weeks, with 73% of restaurants reopening. Within 8 weeks manufacturing production was at ~90% of pre-COVID-19 levels, and consumer activity outside the home – including leisure activities – continues to improve. Let's hope we see a similar trajectory in the US soon.
Anna Raginskaya is a financial advisor with the Blue Rider Group at Morgan Stanley.
Image: Cover the Walls with Hope project / My Heart Overflows With Gratitude by Melanie Cervantes
Information contained herein has been obtained from sources considered to be reliable, but we do not guarantee their accuracy or completeness. Anna Raginskaya is a financial advisor with the Global Wealth Management Division of Morgan Stanley in New York. The information contained in this article is not a solicitation to purchase or sell investments. Any information presented is general in nature and not intended to provide individually tailored investment advice. The strategies and/or investments referenced may not be suitable for all investors as the appropriateness of a particular investment or strategy will depend on an investor's individual circumstances and objectives. Investing involves risks and there is always the potential of losing money when you invest. The views expressed herein are those of the author and may not necessarily reflect the views of Morgan Stanley Smith Barney LLC, Member SIPC, or its affiliates.