Building Power for a Just Transition: The Art of Environmental Justice in Puerto Rico
Building Power for a Just Transition: The Art of Environmental Justice in Puerto Rico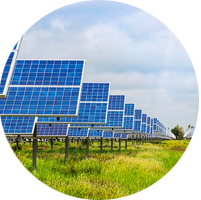 What does it look like to build another possible world, in the midst of resisting and surviving the assault on your present one?
Perhaps it looks like installing solar panels in homes, groceries, the fire station, and the cinema of your town; and during Hurricane Maria when much of Puerto Rico lost power for extended periods of time, becoming an "energy oasis" for the community. Perhaps it looks like owning your own radio station and newspaper, selling coffee to support community programs, and setting up a Bosque Escuela, a school in the forest to teach conservation and sustainable development.
And, perhaps most importantly, it means persevering for the long haul, learning and adapting through setbacks. These are some of the lessons from Casa Pueblo, a "community self-management project committed to appreciating and protecting natural resources, cultures and humans." As Arturo Massol Deya described, the project began 40 years ago in Adjuntas, a municipality in central Puerto Rico, in response to the government's proposal to conduct open pit mining, which would have caused an ecological and social catastrophe in the area. At their first protest in 1980, one person came.
"We realized science itself is not enough," Arturo said. The group kept iterating, and came up with a practice formulated as Science + Culture + Community toward social transformation. Fifteen years later, the mining proposal was defeated.
Casa Pueblo and AgitArte, an organization of working class artists and organizers in Santurce, Puerto Rico, are two of the case studies shared in this panel highlighting the work of artist-organizers innovating new systems to advance environmental justice. Alongside them is the strategic partnership of grantmakers at the Surdna Foundation, Hester Street and the María Fund, who also shared principles of critical allyship and ideas for transforming philanthropy.
As Xiomara Caro-Díaz of the María Fund explained, "Critical allyship is connected to your own freedom and work. Puerto Rico is not something to add to your bucket, but about the future of movement building across the globe. Puerto Rico is a place many grantmakers and movement building organizations should be learning from."
Hester Street is an urban planning, design and community development nonprofit partnering with Surdna's Radical Imagination for Racial Justice program. The project is part of a national regranting cohort of 11 organizations working at the intersections of climate justice, racial justice, arts and culture. More specifically, as Vanessa Monique Smith described, this work is about integrating arts to "create space to activate communal action and spur culturally relevant solutions for climate justice."
Along with Robert Smith of the Surdna Foundation, grantmakers in this panel shared practices of allyship, such as removing grant report writing and other administrative burdens, decentralized and unrestricted funds, multi-year giving, and more. Vanessa's advice to funders: 1) Am I focused on my work's intent or the impact of the group on the ground? 2) What am I assuming based on my place of work and experiences that may be different in Puerto Rico? 3) How can I do more than just provide funding? What are the networks, resources, and information sharing that we can promote?
Panelists also delved into the problematic power dynamic that exists when money is involved, and how to forge dynamic, deeper and trust-based partnership between funders and frontline organizations. As Jorge Díaz of AgitArte summarized trenchantly, "Partnering with folks who are wealthy should look like how can you move resources? Because we have to organize our people, so go organize your people."
Photo Credit: Casa Pueblo