Autopsy of an Orchestra
An analysis of factors contributing to the bankruptcy of the Oakland Symphony Orchestra Association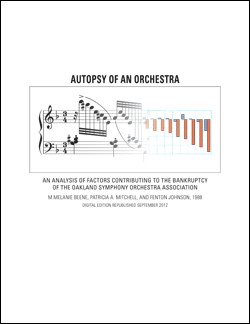 Download:

   Autopsy of an Orchestra (12.7Mb)

Grantmakers in the Arts and Melanie Beene are pleased to provide this republished digital edition of the seminal report, Autopsy of an Orchestra.
Originally published in 1988, before the advent of digital technology, for years this research has been available only in hard copy, and has been largely unseen by a generation of funders and orchestra management professionals. The post-recession economy has left many orchestras and other arts nonprofits struggling to find new models of operation, and the lessons of the past have never been more timely.
From the preface by Sarah Lutman, former managing director of the St. Paul Chamber Orchestra:
". . . the compound issues the Oakland Symphony faced in the 1980s resonate clearly for twenty-first-century orchestras. As is the case in so many instances, we have unearthed a historical document only to find that it is about ourselves. . . .
And yet, the difficulties faced by the Oakland Symphony in the 1980s, though carefully studied by Melanie Beene and Associates in Autopsy, are less sufficiently remembered by the cultural sector. We ignore the report's findings and lessons at our peril."
The digital edition is available free of charge.
This report was featured along with four other important past research publications in the Fall 2012 edition of the Grantmakers in the Arts Reader. To provide a fresh perspective on these pieces, we asked five younger-generation grantmakers to reflect on the findings and their relevance today. We also asked five more-seasoned field leaders to comment on the historical importance of the research. We hope that these ten voices come together to refresh a discussion centering on these particular studies, which still offer instructive lessons for philanthropy today.
This republication was supported in part by the William and Flora Hewlett Foundation, with in-kind services provided by Grantmakers in the Arts and Warren Wilkins Design.