Communities, Culture, and Capabilities
Preliminary Results of a Four-City Study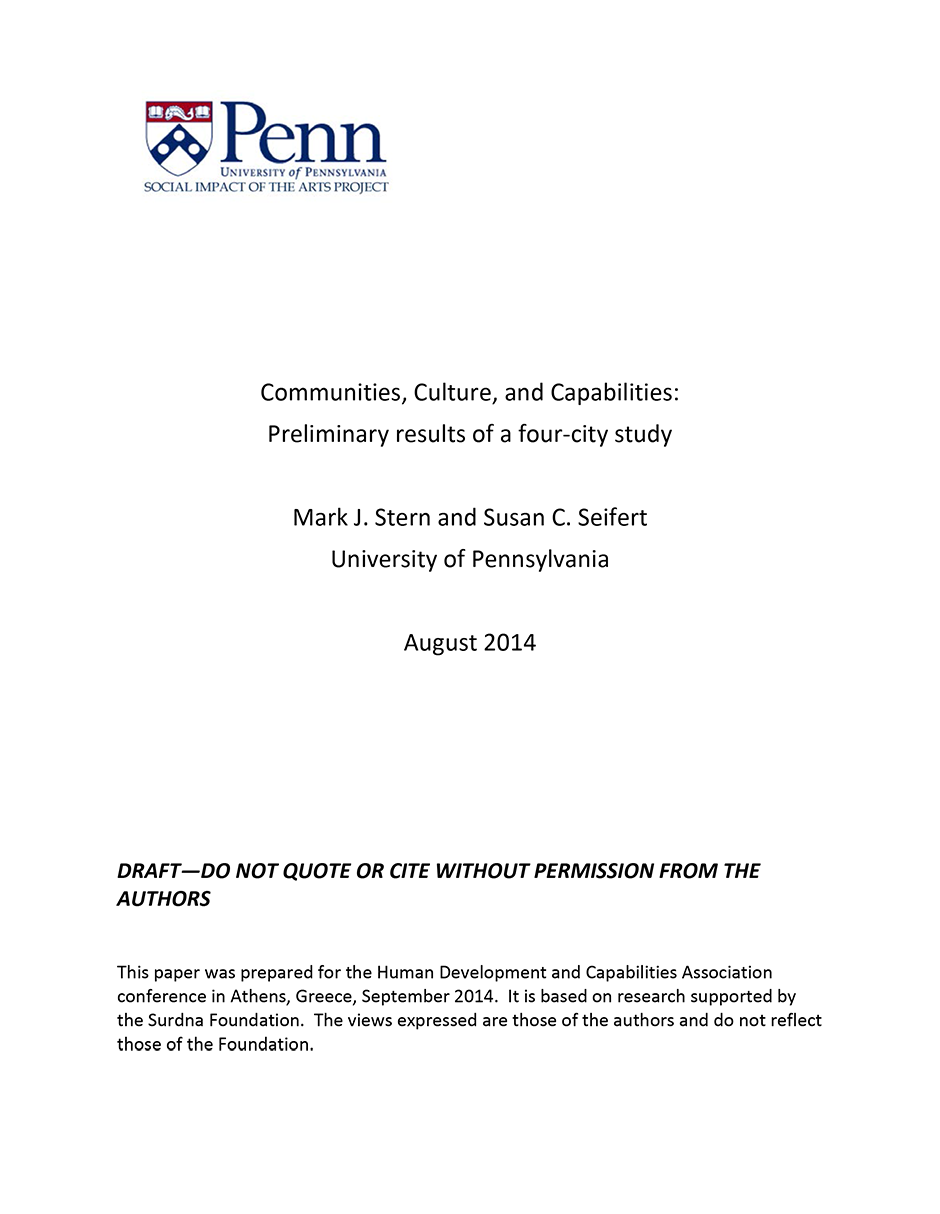 Report draft authored by Mark J. Stern and Susan C. Seifert. Prepared for the Human Development and Capabilities Association conference in Athens, Greece, September 2014; based on research supported by the Surdna Foundation.
Download:

   Communities, Culture, and Capabilities (8.8 Mb)

Two years ago at the Grantmakers in the Arts conference in Philadelphia, I was particularly intrigued by a presentation about Culture Blocks, a project led by Mark J. Stern and Susan Seifert. The co-presenters have long led the Social Impact of the Arts Project (SIAP) at the University of Pennsylvania, where they have worked to research and better understand the impact of arts on neighborhoods. Culture Blocks takes a deep look at the structure of Philadelphia's cultural sector, mapping the presence of artists, commercial arts entities, and nonprofit arts organizations. The SIAP approach asks how arts and cultural development may be considered as factors alongside other evidence of social well-being.
At the heart of this research is the concept of capabilities: the idea that one's well-being depends on having the freedom to have a decent life, and a decent life is one in which one has "capabilities" — the capacity to make choices. Wealth is a key factor in determining well-being but is not the only meaningful asset. In a 2010 report, Amartya Sen, Joseph E. Stiglitz, and Jean-Paul Fitoussi present a framework that identifies the following eight dimensions of well-being:1
material standard of living: income and inequality
health: mortality, morbidity, and access
education: attainment, achievement, and access to quality
personal activity: working conditions, leisure, and housing
political voice: voting and participation
social connection: institutional structure and face-to-face relations
environment: threats and assets
insecurity: physical security and crime
The SIAP team took a deep look at evidence of these factors in Philadelphia census tracts.
In 2012–13, Stern, Seifert, and their colleagues made several alterations to the Sen-Stiglitz framework based on data emerging from their census tract–level studies in Philadelphia. These changes included breaking the social connection subindex into three parts: institutional connection, face-to-face connection, and cultural assets. They also found that census tracts were too big to illustrate meaningful patterns and looked to census blocks for more nuanced understanding of neighborhood characteristics and well-being. As of 2013, the Culture Blocks research suggests that access to culture assets could be important to improving well-being, particularly in neighborhoods with high poverty and low income rates.
SIAP's investigation into the capabilities framework continues. In the introduction to the draft paper "Communities, Cultures, and Capabilities," they note:
Residents of well-off neighborhoods enjoy more cultural institutions and higher levels of cultural participation. Yet, the relationship is not absolute. We find that some low-income neighborhoods, too, enjoy a relatively high level of cultural assets. It is precisely in these sections of the city that we find better social outcomes.
In this paper, the SIAP team investigates how economic well-being and strong social connection can mitigate social stress and insecurity, and contribute to strengthening of personal health and school effectiveness. They conclude that, indeed, these four factors of well-being are influenced both by material standards of living and by the social connections that are fostered by cultural engagement.
Moving ahead, Stern and Seifert are asking whether similar findings might appear in other cities, and they are continuing their studies of Philadelphia while also collecting and analyzing data on New York City, Seattle, and Austin, Texas.
For those of us who are not trained in sociology or in reading statistics, this paper is slow reading, but I have great admiration for this research team, find their hypothesis to be exciting, and look forward to what they will learn from a broader investigation.
Frances Phillips is program director for the Arts and the Creative Work Fund at the Walter & Elise Haas Fund in San Francisco.
NOTE
Joseph E. Stiglitz, Amartya Sen, and Jean-Paul Fitoussi, "Report by the Commission on the Measurement of Economic Performance and Social Progress" (Paris: Commission on the Measurement of Economic Performance and Social Progress, 2010).