GIA Reader, Vol 27, No 1 (Winter 2016)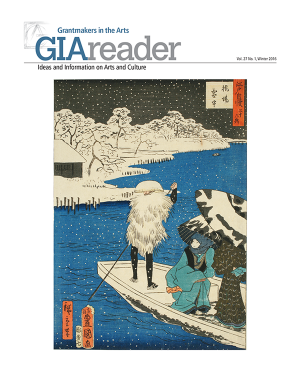 GIA Reader, Vol 27, No 1 (Winter 2016)
On the cover:
Utagawa Hiroshige II (Japanese, 1826–1869) and Utagawa Kunisada (Japanese, 1786–1865) Hashiba Ferry in Snow (from the series The Pride of Edo: Thirty-Six Scenes), circa 1860 Woodblock print. Overall: 12 7/8 x 8 7/8 in. (32.7 x 22.5 cm) Gift of Mrs. James W. Lyon, 1971.131.15.
Courtesy of the Tacoma Art Museum.
Articles shown in gray are not yet available online, but are available in the print edition.
Contents of GIA Reader, Vol 27, No 1 (Winter 2016)
From the President & CEO
Arts Funding Trends
Readings
Almost Livin' Almost Dyin' (poem)