GIA Reader, Vol 30, No 2 (Summer 2019)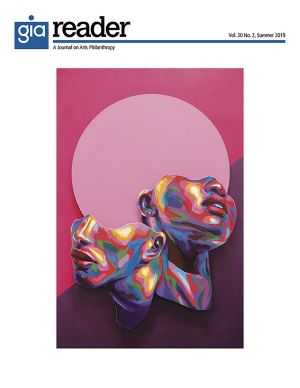 GIA Reader, Vol 30, No 2 (Summer 2019)
Download the .pdf of this Reader
On the Cover
Thomas "Detour" Evans, Moonshine for Lovers, (2017), mixed media (Acrylic and latex paint on wood panel and cardboard), 24 in x 36 in.
Detour uses interactive paint that responds when touched. His goal is to make his art connect with people and that means letting viewers touch it.
Moonshine for Lovers is a one of the center pieces for the body of work Between the Hues, which was an exploration that took place at the intersection of color, shape, and sound. It explored the meanings and imprints that we place on each of those formal elements, and also investigates the ability to reshape how we see these elements in relation to each other.
Contents of GIA Reader, Vol 30, No 2 (Summer 2019)