GIA Reader, Vol 23, No 2 (Summer 2012)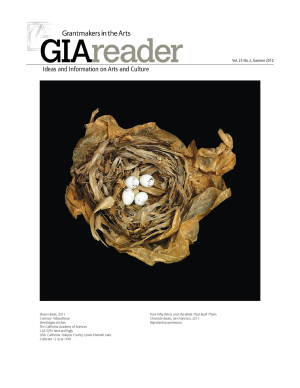 GIA Reader, Vol 23, No 2 (Summer 2012)
On the cover:
Sharon Beals, 2011
Common Yellowthroat (Geothlypis trichas)
The California Academy of Sciences
CAS 5291 Nest and Eggs, USA: California: Siskiyou County; Lower Klamath Lake. Collected 12 June 1918 from Fifty Nests and the Birds That Built Them, Chronicle Books, San Francisco, 2011.
Articles shown in gray are not yet available online, but are available in the print edition. Contact GIA to order copies of the Reader or submit this form to subscribe.
Contents of GIA Reader, Vol 23, No 2 (Summer 2012)
Readings
Through Corralitos Under Rolls of Cloud (poem)
Reading What I See (poem)
Book Review