Building a Fine Rustic Home to Nurture Women's Voices
What is a woman's relationship between the experience of spending time in a natural setting away from everyday chores, and the release of self-expression through writing?
Start with this:
Walking on a salty sandy beach, then sitting down to write.
Eating thoughtfully created organic meals prepared for you in a warm kitchen. Sharing your new writing with the other residents in a comfortable living room after dinner.
Wandering green woods and pastureland, seeing no one for hours.
Stoking the wood stove in a hand-built cottage, hearing the quiet of a dark night outside, broken only by the hoot of an owl, and then sitting down to write.
But facing the blank page in front of you is not easy. That infernal blank page.
You look around, look at your watch, and stare at the blank page. You make notes, an outline, throw away the first beginning.
You peruse the journal left in each cottage for writers to record thoughts about their stay in that cottage, a highly personal (and creative) diary written by dozens of former inhabitants of each cabin, talking of loveliness and productivity.
Hedgebrook has gifted you the chance to challenge yourself in this way, something you had not experienced at home before arriving at this rare women's residency. The urge to produce is upon you.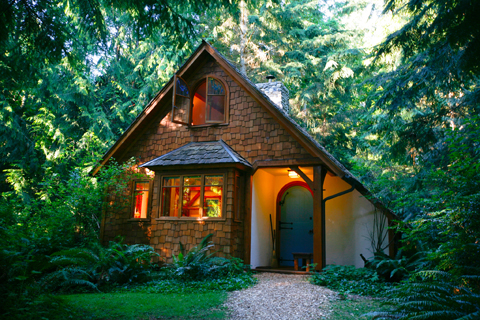 Hedgebrook, a writer's retreat located on Whidbey Island in Washington State, has been this and so much more for at least thirteen hundred women fiction writers, poets, essayists, playwrights, and screenwriters, young and old, ranging from unpublished to well published. Their thousands of works include chapbooks, small-press editions, academic textbooks, all the way to major publishing house stars. I was only one small pebble in that cascade of fortunate writers.
As a former reporter and editor at the Seattle Times and a "community-based" literary anthology editor, I was asked to join the Hedgebrook selection committee and afforded the chance for a week in residence with five excellent writers. And then I was recruited to the board of directors by Nancy Skinner Nordhoff, the soft-spoken ultra-supporter of women's voices and the visionary who built Hedgebrook and has largely funded it, from the ground up.
Whidbey Island is 168 square miles and has a population of 59,000, the largest of the rustic islands in the inland sea called Puget Sound. It's about thirty miles north and a short ferry ride from Seattle. A comparison? Staten Island at fifty-eight square miles has a population of 468,730. At the north end of Whidbey sits an air force base; in the middle, small farms; and in the south, colonies of wealthy retirees from Seattle, California, and elsewhere, drawn by the mild climate and gentle, sophisticated ways of the island.
Here philanthropist Nordhoff bought a forty-eight-acre farm in 1985, assembled a team that would come to build six hand-framed cabins, began a program to support women writers' voices, and made her dream real. Her collaborator was Sheryl Feldman, writer and social justice advocate.
Over the years, women from their twenties to their eighties have traveled to Whidbey from many parts of the world, including most major US cities and rural areas, to lap up the quiet days and nights, away from bosses, children, partners, and classrooms. The majority is juried in through a highly competitive process. The stay is free. The residency can be from two to six weeks. Some residents are invited guests, there to participate in a special-topic session. A professional research librarian volunteers to lend support.
One remarkable statistic that distinguishes Hedgebrook from its many elegant, well-bred, or sometimes rugged, sister artist residencies across the United States and, to some extent, the world is that since its founding, Hedgebrook has maintained an astounding 50 percent of each residency group as women of color. This priority is supported by the founders, staff, board of directors, and selection committee.
That's more than six hundred women of color nurtured by Hedgebrook, given the unusual chance to test their voices and share their written episodes with other women writers in a safe atmosphere. Examples include MacArthur Award–winning playwright Lynn Nottage, Pulitzer winner Quiara Alegría Hudes, and novelist Monique Truong. Many of them come from large urban centers where they have not experienced living in nature, the nights too quiet and dark; some want to stay in the cottage nearest the main farmhouse.
The question must be and is asked: "What about the men?" Hedgebrook staff includes men, and some have served on the board. And of course the donor list includes men.
But do men need their own restful retreat? There is no sense of guilt or responsibility here to provide a like experience solely for men. A recent study of published women writers by VIDA Women in Literary Arts showed that the proportion of women published in books and magazines and with works reviewed by major newspapers in 2010, with numbers checked again in 2011, was 25 percent compared to male writers. That number is even lower for film and television writers. (See www.vidaweb.org/the-count.)
The Hedgebrook annual budget is about $1 million, and this supports sustainable care of the forty-eight-acre largely undeveloped land, one hundred residents' stays of two to six weeks each year, and public readings for local Whidbey Island residents and Seattle fans. A nationally recognized Hedgebrook Women Playwrights Festival brings together selected playwrights and dramaturges and stages professional readings in collaboration with ACT Theatre and sometimes other regional theaters, such as Denver Theatre Center, Seattle Rep, and Berkeley Rep. A special residency session for songwriters was held this year. A week designated for screenwriters is coming. Intensive writing master class workshops, also in residence, for those who can pay for them, draw full houses each year.
And in 2011, a distinctive week called Girls Ink brought together twenty fourteen- to nineteen-year-old women to learn from Hedgebrook writers at a separate retreat center on Whidbey. A wonderfully brave sixteen-year-old participant read her compelling poem at Hedgebrook's large fundraising benefit event recently.
What comes after Hedgebrook, besides fame and fortune? That future may vary for the alumnae. Some are inspired to become active with chapters in places with more than two hundred former Hedgebrook residents, like New York City, Los Angeles, the San Francisco Bay Area, and, of course, Seattle. Beyond socializing and the important fundraising duty, alumnae set up events for writers to learn skills such as the ever-popular "how to get published," and for publishers and book critics to get to know Hedgebrook writers. And alums have the opportunity each year to apply to return for a residency stay at their beloved Hedgebrook.
The annual conference of the Association of Writers & Writing Programs presents an opportunity for Hedgebrook representatives to share information and speak on the meaning of a women's residency. One hundred attendees at a recent conference workshop learned about challenges facing women writers.
Born as a private foundation that transitioned to a 501(c)(3) nonprofit in 2006, Hedgebrook finds itself in a unique position heading into its twenty-fifth year. For nearly twenty years, the organization subsisted primarily on Nancy Nordhoff's founding gift and generous donations from a small circle of donors and alumnae. Over the past few years, the board and staff have faced the challenge of expanding the organization's donor base and growing the annual fund, while creating new programs that produce earned-revenue streams. Even in a challenging economy, they have managed to grow contributed income by about 30 percent each year, and increase earned income from $20,000 to $150,000 in three years. The challenge over the next four to five years is to fully evolve into a sustainable model that will continue to support the funded residencies of forty competitively-chosen writers and ten invited guest writers each year, continuing Nordhoff's legacy and the long-standing commitment to cultural diversity. Staff capacity will be augmented soon with the addition of more communications and development staff hours.
Hedgebrook's ten-person board of directors is a mix of members with extensive nonprofit board experience, as well as members with entrepreneurial business experience serving on their first nonprofit board. And discussion includes growing to a national board model within the next two years.
The artistic advisory committee already is national with luminaries such as Gloria Steinem, Carolyn Forché, and Eve Ensler lending credibility and a helping hand.
Is there still a need for a women writers' residency? The number applying shows the need. Hedgebrook received a thousand applications for forty competitively chosen openings this year. Recent attacks on women's health care indicate a continuing need for writers to voice women's concerns. And looking at the 25 percent figure from the VIDA study, the answer is yes.
The blank page sits in front of the writer. Hedgebrook affords her a chance to create while in an untouched natural setting, shared with others. All it needs is the beginning, and a middle, and an end.
Mayumi Tsutakawa is a program manager at the Washington State Arts Commission and chair of the board of directors of the Association of American Cultures.
Poems by Anita Feng and Genine Lentine, two Hedgebrook alumnae writers, are featured in the print version of this issue.