GIA Reader, Vol 26, No 3 (Fall 2015)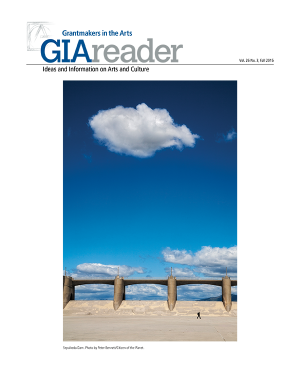 GIA Reader, Vol 26, No 3 (Fall 2015)
On the cover:
Sepulveda Dam. Photo by Peter Bennett/Citizen of the Planet.
Professional photographer Peter Bennett has been shooting and specializing in environmentally themed images and stories for many years and is currently working on a book on the Los Angeles River. http://www.citizenoftheplanet.com
Articles shown in gray are not yet available online, but are available in the print edition.
Contents of GIA Reader, Vol 26, No 3 (Fall 2015)
From the President & CEO
Arts Funding Trends
Readings
October, Remembering the Ride No One Saw (poem)
Member Reports
Book Review